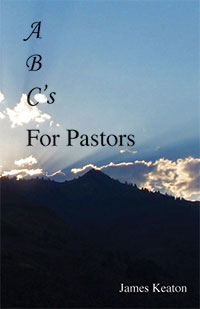 This book is highly recommended for any preacher. Dr. James Keaton gives some very pertinent pointers especially for pastors.  This book reveals much about the author's philosophy of and passion for the ministry. It is written to encourage and assist the reader's efforts in the noble cause of Christian ministry.
Reading through ABC's For Pastors, I saw more than simple instruction to pastors. I saw a man's heart that lives and breathes ministry. I am constantly amazed at the insight and wisdom he demonstrates as we face issues in ministering together. I heartily recommend ABC's For Pastors. Do not be fooled by the simple title. It is a mine of practical and spiritual gems. – E. R. Trouten
To order, visit Country Pines Printing.