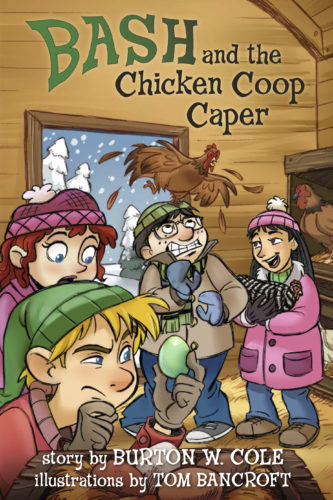 Bash and the Chicken Coop Caper
When Mom offers "anything" to get Bash and cousin Beamer out of the house, she really isn't expecting them to use her good sheets to sail-snowboard off the top of the chicken coop, to put a pig in ice skates, or use undershorts for a snowball slingshot.
Bash uses the most misadventurous methods ever imagined by a couple of cooped-up kids to harvest the fruit of the Spirit. Beamer is more concerned with the disappearing pink, purple, and orange paisley sleeping bag, and the mysterious footprints in the snow.
Plus, it falls on the bumbling Beamer to help new kid Lauren, whose dad just died, figure out why a loving God would let bad things happen to good people.
To order, contact author Burton Cole at burton.w.cole@gmail.com or 11403 Parkman Road, Garrettsville, OH 44231. Shipping is $4.00. Bundle all three books for $30 plus $8 shipping. Includes personalized autograph and trading cards.