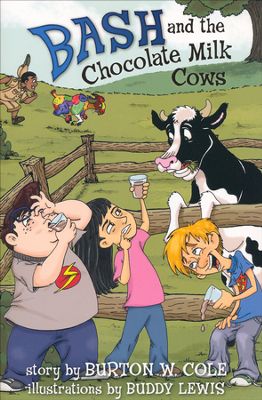 Bash and the Chocolate Milk Cows
Chickens dripping in strawberry-rhubarb pie run amok in a fire station. A goat gets painted in an explosion of circus colors. And the cows give chocolate milk on April Fool's Day. Just the typical weirdness Beamer encounters when visiting cousin Bash on the farm.
With the Sunday school picnic at Lake Erie, is time for Beamer and Lauren to say, like the guy in Acts did, "Look, there's water! What would keep me from being baptized?"
Meanwhile, somebody's holding up stores and feed mills. Beamer finds himself face-to-face with the robber with only his crazy cousin, his cousin's pesky neighbor Mary Jane, and Morton, the goat of many colors.
To order, contact author Burton Cole at burton.w.cole@gmail.com or 11403 Parkman Road, Garrettsville, OH 44231. Shipping is $4.00. Bundle all three books for $30 plus $8 shipping. Includes personalized autograph and trading cards.